Verizon TelecomPioneers Museum of Virginia Publicity Page
http:/www.wcast.info/vtpmva/publicity/page.htm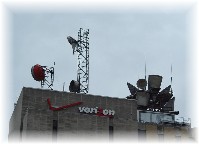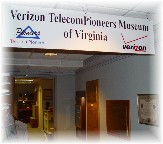 Click on each slide to enlarge.
Main Entrance just below the Verizon sign at street level: 713 East Grace Street Richmond, Virginia 23219 804-772-1118
website
PURPOSE
Promote the awareness, increase involvement, to assist and support the Verizon Pioneers Mission
by using websites, webcasting, podcasting, and other multimedia technologies.
March 10, 2009 Meeting
Improve the Sign-in Visitors Book Completed, and the front door appearance at 713 E. Grace St.
Get WECO more involved
Ed to get Museum business cards printed and follow up on the brochure.
Curtis Anderson to check out the Disputanta Telephone Company equipment room. Completed
The old building has been taken down-it is gone.
Ideas on a "Guidelines" or "Rules of Operation" Museum Book including security.
Schedule a future Face-to-Face Meeting and a Work Day in June.
Curtis Anderson to contact retired 703 E. Grace St. employees for a Private Museum Tour on April 4, 2009 9am-11am.
Completed Review Private Tour
Promote the Museum "OPEN HOUSE" day May 2, 2009 11am-3pm
Curtis to investigate museum access. Completed
EMAIL-CONTACT: Curtis Anderson - Publicity Co-Chairperson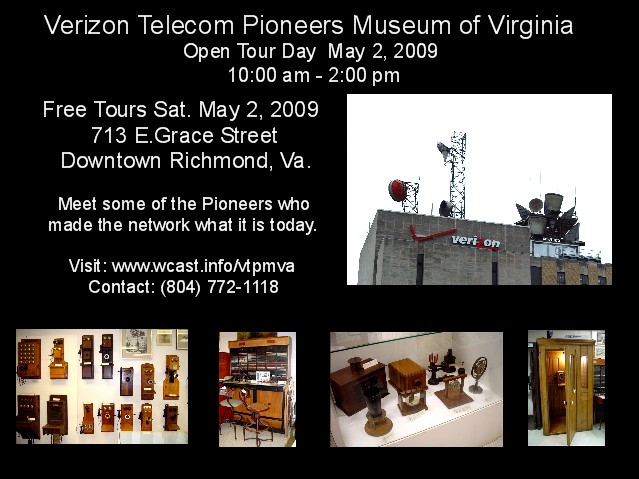 On local cable channel 3 in the Petersburg, Va. area on selected Mondays and Fridays at 5:30 pm
You can view it Click H E R E now. A World Wide Webcast Production by wcast.info
Copyright © 2003,2009 www.wcast.info - All rights reserved. Disclaimer.
.