Pioneers of The Telephone Industry
Celebration of Telephone Pioneers 100+ Years
Fellowship - Loyalty - Service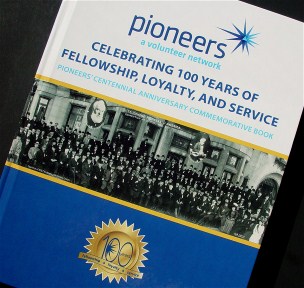 Pioneers, a volunteer network, celebrates 100+ years with this commemorative book.
The world's largest organization of industry-specific employees and retirees dedicated to community service.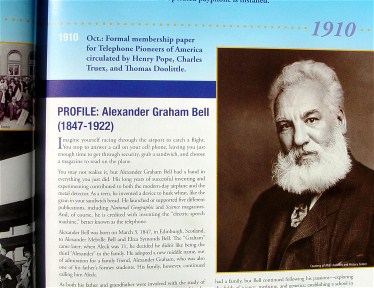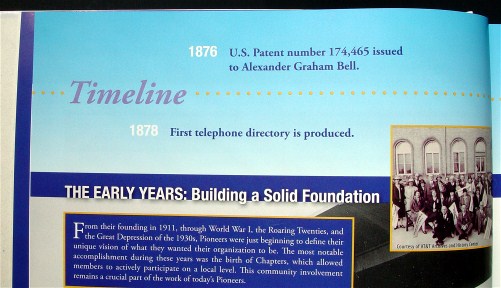 Alexander Graham Bell was disappointed in his invention of the telephone in 1876.
Intended on it being a hearing device for his mother and wife, it was not, so Bell offered to sell the patent to Western Union for $100,000.
Western Union turned down the offer, considering the device a toy, so Bell then started promoting his invention to the general public.
The Bell Telephone Company was created the following year as the public and investors took great interest in the telephone.
It would not be until 1915, and many patents later, that the first official coast-to-coast call was completed.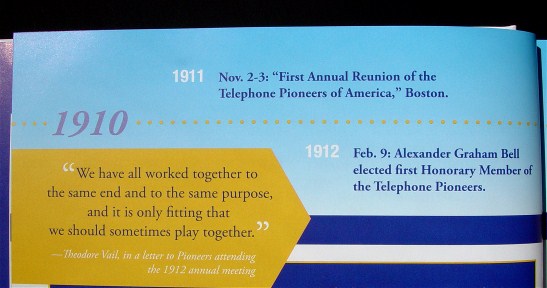 By 1911, many of the first Bell Telephone Company employees were retiring, when one employee, Henry W. Pope called for a reunion
of telephone retirees to be held in Boston, the birthplace of the telephone and invited Alexander Graham Bell.
From this first reunion and each year thereafter, the 'Pioneers' have become an organization network of volunteers
devoted to fellowship, loyalty and public service.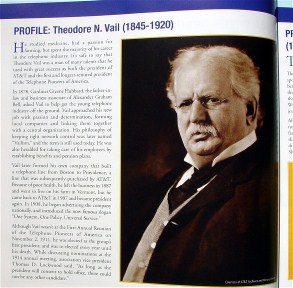 Theodore N. Vail , in 1878, was asked by a business associate of Alexander Graham Bell to help organize the new telephone company.
His approach of forming local companies and linking them together as a controlled network came to be know as 'Vailism'.
Elected as the first president of the 'Pioneers' in 1911, was re-elected every year thereafter until his death in 1920.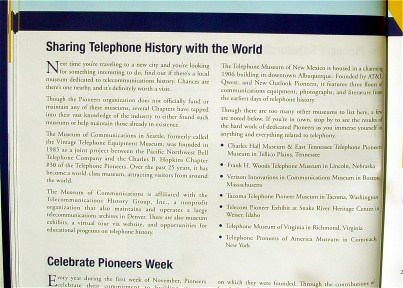 Pioneer community projects are numerous and vary greatly in scope, allowing a wide variety of choices for any volunteer.
One example is sharing the telephone history with the world as pioneers serve in local telephone museums.
With too many museums to list, a few were noted in the Commemorative Book, including The Telephone Museum of Virginia in Richmond.


The New Pioneers Museum of Virginia at 713 E. Grace Street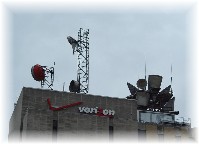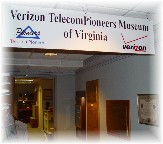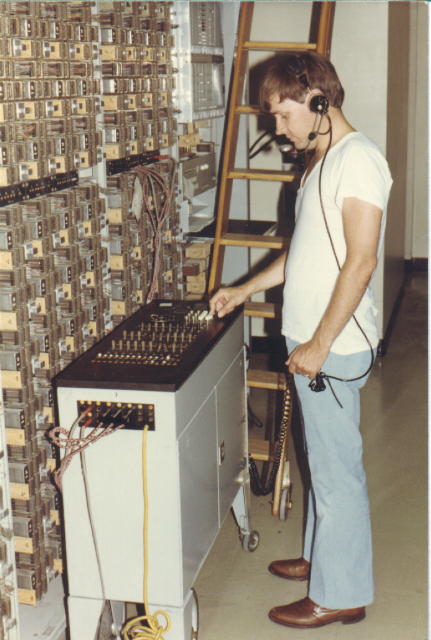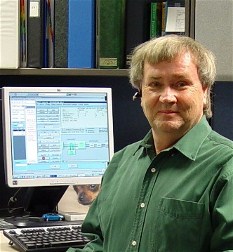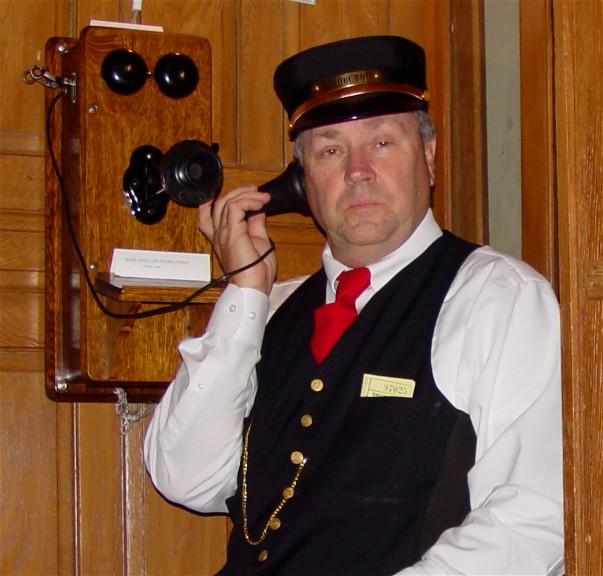 Verizon Pioneer Curtis Anderson ( left - testing a long distant analog circuit in 1969)
( center - testing a long distant digital circuit in 2009)
shows off the Norfork & Western Railway telephone booth ( right - as tour guide in 2009)
during the summer program of tours at the museum in Richmond, Virginia.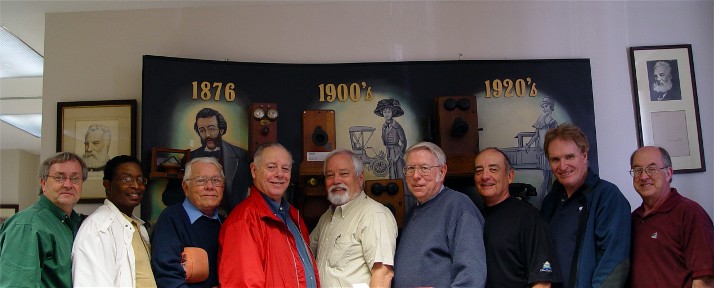 Curtis Anderson, Charles Trent, J.A. Winckler, Herb Wolverton, Taise Kiser, James Childress, Wilson Turner, Dick Kennedy, James Johnson
Pioneers with service from 1948 to 2009, this group continues to enjoy talking about the days when they worked
together in Grace Street on much of the equipment now on display at the museum. "We were part of it! ".

The Virginia Telephone Museum Pioneer Library
Copyright © 2011 www.wcast.info/vtm - All rights reserved. For Official Pioneers Use Only.
.