K W STUDIO - RAILROAD ART
Chester, Virginia
Thunder on the Blue Ridge
Norfolk & Western's Y6a 2157
There are no storm clouds around, yet the sound of thunder can still be heard. Norfolk & Western's Y6a 2157
is paired with a second Y6a. Together they struggle to the summit of the Blue Ridge grade with a consist of
loaded coal hoppers. Further down the tracks at the rear of the train, another Y6a has joined in to help get the
hoppers to the summit. The eastbound tracks have taken on the appearance of being white. This is the result
of the many steamers laying down sand to keep their footing as they attempt to conquer the Blue Ridge grade.
Limited Edition Print: $30.00
Size: 17 x 21 ˝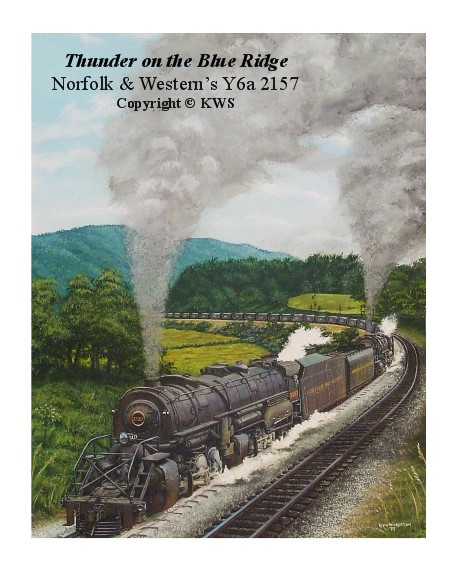 <RETURN TO ARTWORK PAGE >
E-mail: kws@wcast.info Copyright © 2009 www.wcast.info/kws