Get On Board - Train Enthusiasts ! Life is like a mountain railroad.
( This is a multimedia program and not an actual train ride. )
www.wcast.info/trinity
DETAILS:
OPEN TO THE PUBLIC. PLEASE RSVP AT 732-3216 for large groups so we know how many to expect.
RSVP is not required. Last minute walk-ins are welcomed. We have enlarged our new media facility.
Visit www.wcast.info/trinity for more details.
When train yard attendant "Bubber" throws the track switch to the main line, the DVD spins up, the audio cranks out, and the projector fans blow. Take position behind the engineer, and like Brakemen, hang on to the side of the engine cab down where the wheels spin and the steam vents. ALL Aboard!
Trinity Church at 215 S. Sycamore Street in Petersburg will soon present again our modern day parable in a most unusual way; by using train sounds, music, and video with a train theme. Get on board and travel this exciting and rewarding journey. Ride along with the engineer and get down where the wheels meet the rail, hang-on as we cross over the rivers and streams, as we " strainin' ev'ry nerve". Like a mountain railroad, the large screen display and powerful sound system will put the viewer in the engine cab at the controls with the engineer, headed out on life's journey "mindful of obstructions", while learning lessons sited in several old railroad songs. We have on display a wonderful collection of large photographs and art work one would expect to only find in a museum.
The program is free and open to the public. We ask that large groups to please RSVP so we know how many to expect, if possible. Call Trinity Church at 732-3216 or RSVP online at trinity@wcast.info. While this is primarily a children's program, adults will enjoy learning about railroad life both yesterday and today. Presentations will include the N&W Railroad, The California Western Railroad, Thomas the Tank, Peanuts, and some other well known railroads, and a famous American railroad dog!
NOTE: Peanuts®United Feature Syndicate, Inc. all rights reserved. Thomas the Tank®Gullane Entertainment,inc.,all rights reserved.
Petersburg once had three railroad lines, each with a train station not far from Trinity Church. Only one line was a mountain railroad, The Norfolk and Western Railroad. This program is in keeping with the mission of the Historic Petersburg Foundation, Inc. to promote widespread knowledge of the city's unique architectural and historical heritage.
The program will be held in Trinity's Chapel, built in 1923 as the main assembly room, which has a history all it own. Decorated like a train station-movie theater-museum, employing the latest A/V technology, the room provides the ideal setting for this presentation.
The program is presented by Curtis "Bubber" Anderson of Colonial Heights. Bubber was born in Petersburg in 1948 and was raised near the Atlantic Coast Line Railroad train station and he recalls traveling on all three railroad lines in the Petersburg area at different times as a child growing up.
His experience in teaching digital courses at local area colleges and universities, a volunteer worker for young children in a local day care and a private collector of digital train media, all come together with the passion for teaching. Curtis has donated some of his media work to the train museum in Crewe, Virginia and the transportation museum in Roanoke. ALL Aboard! Visit www.wcast.info/trinity for dates and times of the program. www.getonboard.us
Live Band playing 'Wreck of the Old 97' from a previous program.



Click on each slide to enlarge.
Video Clip
Click Here to review our approach to teaching "Life is like a mountain railroad".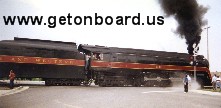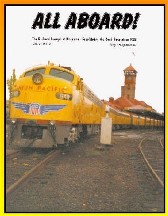 Contact the church office or email Trinity for a free copy of our ALL ABOARD Magazine.
Copyright © 2006 www.wcast.info - All rights reserved. Disclaimer. .